OPERATION IN BIC CF BEFORE AND OVER CHRISTMAS:
Biomolecular Interactions and Crystallization Core Facility is closed over the Christmas (December 22 to January 1). Also, some services/instruments may not be available between December 10-21 due to reduced number of CF staff on site (see the information below for more details).
​
Availability of services/instruments between December 10-21:
Crystallization: setting up of new crystallization plates available till 18/12, crystal storage and inspection is running continuously including Christmas time
AUC services: available till 20/12
Auto-iTC200: available till 14/12
SPR: not available
Instruments in user mode (CD, DLS, nanoDSF, MST, DSC, VP-ITC): available till 21/12, EXPERIENCED users only!
During this time (December 10-21) training of new users is not possible and we cannot guarantee full user support (advanced experimental support, consultation with experts).

​
Application of advanced methods in life sciences - November 14th 2018
We would like to invite you to series of lectures focusing on application of the advanced methods in life sciences - from CRISPR/Cas9 through the differences among various Tag types to possible methods for function assignment to unknown protein. There will be presented methods in structural virology as well as challanges in studying membrane interacting peptides. More information in events.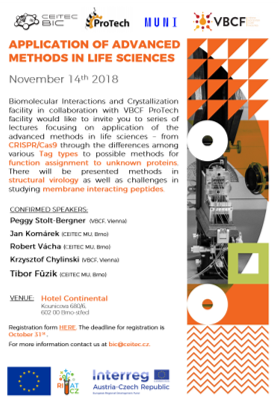 ​
Booking.ceitec.cz

There will be a fallout of www.booking.ceitec.cz from Friday June 22nd 2018 (16:00) to Monday June 25th 2018 (20:00). In case you need to make a reservation please contact us at bic@ceitec.cz

3rd European MicroCal User Meeting
Registrace na 3. Evropský MicroCal Meeting byla zahájena. Akce se bude zaměřovat na aplikaci, správnou laboratorní praxi a pokročilou analýzu dat a mimo jné i poslední vývoj na poli kalorimetrie - izotermální titrační kalorimetrie i diferenční skenovací kalorimetrie.
Více informací: ZDE
​
AutoITC200 je opět funkční!
AutoITC200 bylo úspěšně opraveno a je opět funkční.
​

Prometheus NT. 48 byl upgradován!

S radostí vám oznamujeme upgrade přístroje Prometheus - nově je k dispozici optika pro detekci agregací a větší teplotní rozmezí (15°C-110°C).