Since 1. 6. 2020, the operation of CF BIC is fully back to normal mode. On-site visits of external users has to comply with the regulations given by the Czech Government.
Core Facility of Biomolecular Interaction and Crystallization
Dear Users, in case of cancellation of nanoDSF reservations, please, contact us via e-mail bic@ceitec.cz.
Thank you. CF BIC
ABOUT CF BIC:
The core facility provides services leading to biophysical and structural characterization of biomolecules and to study (bio)molecular interactions. It is equipped with the instrumentation to set up crystallization conditions of biomolecules and their complexes, basic characterization of physical properties of the molecules (analytical ultracentrifugation, dynamic light scattering, CD spectroscopy, differential scanning calorimetry, differential scanning fluorimetry), and to study thermodynamics and/or kinetics of interactions (isothermal titration calorimetry, surface plasmon resonance, biolayer interferometry, microscale thermophoresis, CD spectroscopy, analytical ultracentrifugation).
UNIQUE FEATURES:
Set-up of crystallization screens using commercial-available kits
Automatic inspection of crystals - remote access to results for users
UV imaging to distinguish a protein from a salt

Set-up of optimization screens

Estimation of the precipitation diagram

Production of crystals for structural determination

Quality improvement of crystals for structural determination

Isothermal titration microcalorimetry
Differential scanning calorimetry
Surface plasmon resonance
Biolayer interferometry
Particle size analysis
Analytical ultracentrifugation
Microscale thermophoresis
Differential scanning fluorimetry
Circular dichroism spectroscopy, fluorescence measurement
​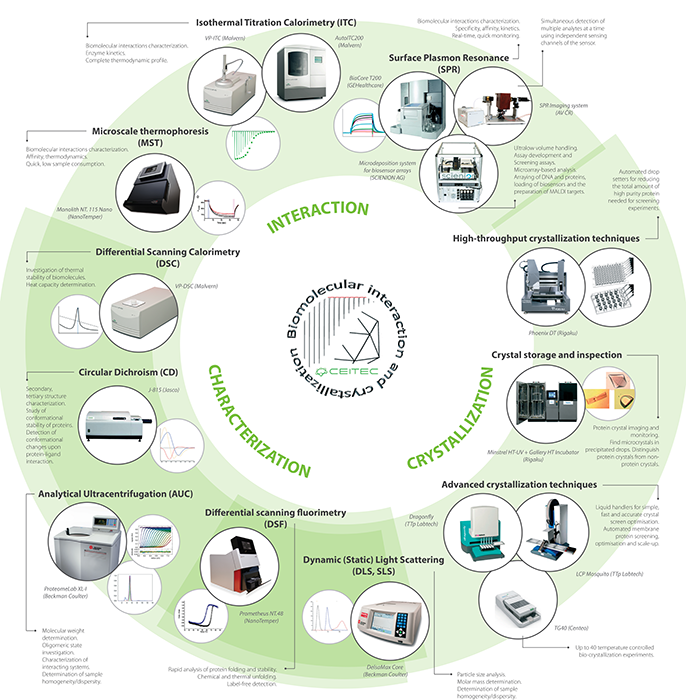 The Core Facility is part of Czech national centre of European Research Infrastructure Consortium INSTRUCT ERIC under the Czech Infrastructure for Integrative Structural Biology (CIISB) funded by the Ministry of Education, Youth and Sports of the Czech Republic, and a member of an open pan-European network Association of Resources for Biophysical Research in Europe (ARBRE). The Core Facility is also funded from INTERREG and CIISB4HEALTH projects.