Technology / Methodology:

​
​Interactions and characterization of biomolecules
Location:
CEITEC MU, building A4, room 2.23
Research group:
CF: Core Facility Biomolecular Interaction and Crystallization
CD spectrometer Jasco J-815 can measure circular dichroism, fluorescence, total fluorescence, linear dichroism, magnetic dichroism, optical rotation dispersion, and stopped flow circular dichroism, fluorescence and absorbance. Circular dichroism and fluorescence data can be acquired simultaneously. Accessible wavelength range 185 – 900 nm. 1 – 10 mm quartz cells are available for measurement. Spectrometer is equiped with Peltier temperature control, fluorescence monochromator and optionally by Bio-Logic SFM-20 two channel stop-flow accessory.
Measurement at Jasco J-815 CD spectrometer is performed by users themselves.
For more details, please contact responsible person:
Josef Houser
e-mail: josef.houser@ceitec.cz
phone: +420 549 49 25 26
​office : 3.39/A4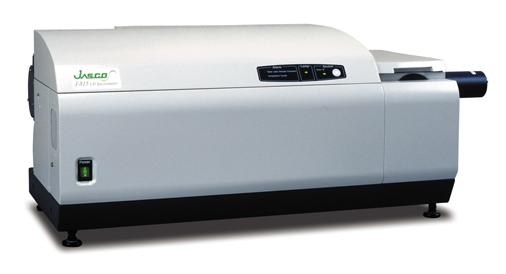 ​